All of our hunts include up to 2 nights lodging on the ranch.  The rustic Bighorn Lodge is situated amongst the rugged country.  You can view our majestic bison herd and other wildlife from the porch. The breathtaking views of our South Texas sunrises and sunsets make the stay one you will never forget.
Bighorn Lodge has been newly renovated with all the comforts of home. We like to say it's "your home away from home in the woods!" It includes a complete indoor kitchen / outdoor grill, multiple bathrooms with tiled showers and living room with satellite tv. The lodge will accommodate up to 20 guests which is ideal for family retreat hunts, company hunts, bachelor parties and church group hunts.
Next to Bighorn Lodge, hunters can practice their shooting skills at "Chief Eagle Eyes Gun Range." During the day in between hunts, guests can stroll over to "Geronimo's Fishing Hole" and try their luck with the catfish and perch. Catch and Release only. Update 10/31/21 We are reconstructing the fishing pond and hope to have it back summer 2022.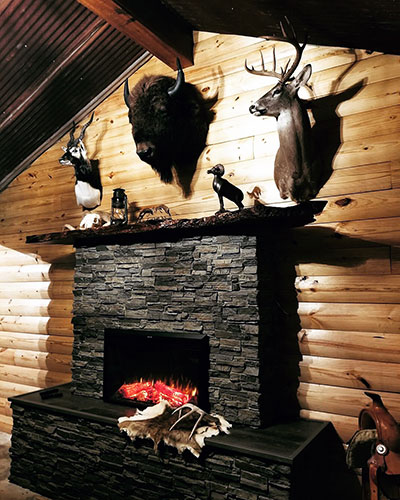 The Great Chiefs
For guests wanting more privacy, we offer "The Great Chiefs", a Native American themed room that will sleep up to 5. It includes a private bathroom as well. Privacy room rate is $175 for 2 nights. This is a popular choice for our guests, so please reserve in advance.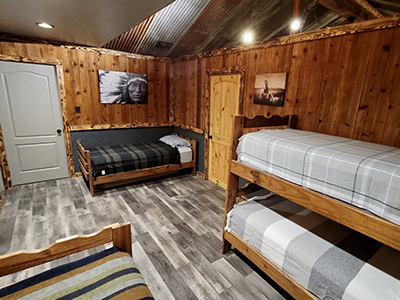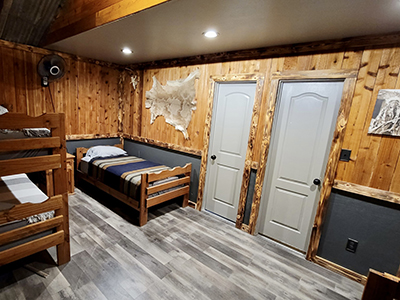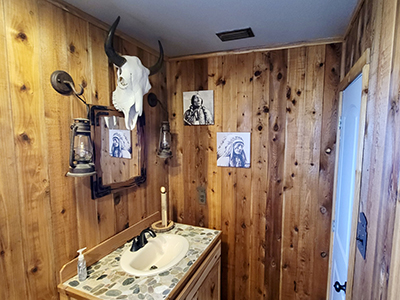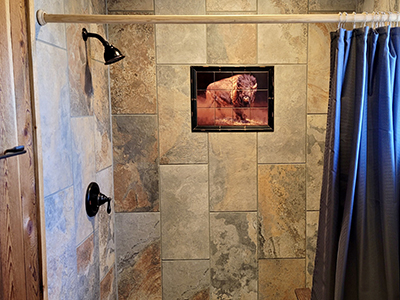 IMPORTANT NOTICE
No Swimming allowed on the ranch. Please remember that Bison/Buffalo are wild and dangerous. They should never be approached. 
Additional Night Stay: $75 per person.